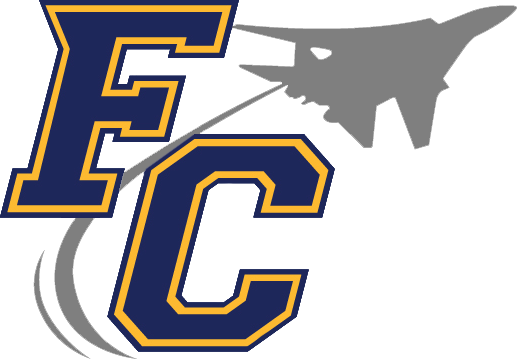 request to change learning location
Below is the link for families who would like to change their child's instructional delivery platform. Statuses of requests are communicated, through district personnel, on Fridays. 
Always use Chrome for Schoology.
Click the graphic below for quick login help.
The Tdap immunization shot is required for all 7th graders and must be recorded on a Florida 680 form.  As soon as your student receives this shot, the form can be brought to the front office, faxed (904-547-7885) or emailed to Marjorie Connolly even if the student is still in 6th grade. 
St. Johns County School District believes that all students and employees be afforded a setting that is safe, secure, and free from bullying and harassment of any kind. In compliance with Florida Statute 1006.147 and School Board Rule 3.21, the school district has adopted a comprehensive policy prohibiting bullying and harassment.
Fruit Cove's "Flight Plan" and PBIS
The 20-21 school year marks the inaugural year of "Pilot Points". Students will be recognized for following the behavior expectations, "Flight Plan", and earn digital points to be used to purchase rewards in our school store.  

PBIS Rewards is a program used throughout schools to promote and build a positive school culture by recognizing behaviors and actions taken by students that are responsible, respectful, and display citizenship.
Students can access their point balance and purchase from the Flyer Store by going to the Links for Students page, clicking on the Clever icon, signing in and then selecting the PBIS Rewards badge.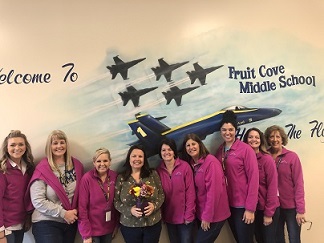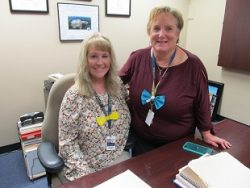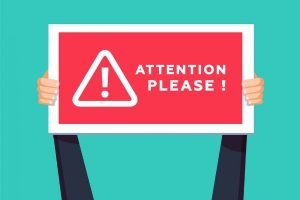 ATTENDANCE
There is no "attendance line" at FCMS.  If your student is absent, please have him/her bring a note (clearly stating the reason for the absence) to the front office when he/she returns to school.  Parents of distance learners, please email your students' notes to our attendance clerk at [email protected].
Students Allowed in Building: 7:10AM
Start Time: 7:30AM
Dismissal: 1:50PM
Wednesday Dismissal: 12:00PM
Office Hours: 7:00AM-3:00PM
If you are a person with a disability who needs assistance, please contact Jennifer Gamble, 547-7880
2020-2021 Instructional Materials Adoption for English Language Arts (ELA)
St. Johns County School District curriculum department representatives and adoption committee members have completed the review process for the Instructional Materials Adoption for English Language Arts (ELA). On January 26, 2021, the School Board will conduct a public hearing to receive comment from the community regarding the final list of recommendations for instructional resources for this adoption. The public is invited to attend this hearing. Committees composed of teachers, district content experts, parents and community members compiled the lists. The hearing will be held at 9:00 a.m. in the auditorium of the District Administrative Building located at 40 Orange Street in St. Augustine.
View the final recommended selections and links to the selections. If you would like access to available printed materials or require assistance reviewing the online resources, please call the Instructional Resources and Media Services office at 904.547.3947. Materials are available for review from 8:30 a.m. - 4:30 p.m. when district offices are open.
Board action on the final recommendations for English Language Arts instructional materials is expected to take place at the School Board meeting in February.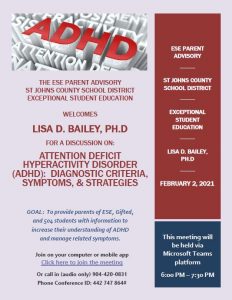 On February 2nd from 6:00pm to 7:30pm, the ESE Parent Advisory will welcome Lisa D. Bailey, Ph.D., for a virtual discussion titled "Attention Deficit Hyperactivity Disorder (ADHD): Diagnostic Criteria, Symptoms & Strategies." Join the meeting online via Microsoft Teams or join via phone by dialing 1-904-420-0831 and then entering the conference ID: 442 747 864#
This is just a reminder that anyone (parent, guardian, friend, neighbor, aunt, uncle) must have school access to attend an event at Fruit Cove Middle School, have lunch with a student and/or attend an awards assembly. If you have not already done so, please complete the School Access Form. The process for approval may take up to 4 weeks, so please fill out the application sooner than later for any guests that would like to have school access. Once the application is approved, school access will be valid for three years.
FortifyFL is a website and app developed at the direction of the Florida Legislature. Any student, educator, parent or member of the public can report school safety concerns directly to law enforcement and school administrators anonymously and easily through the FortifyFL app or getfortifyfl.com.