Thank you for visiting
Fruit Cove Middle School's Health Clinic page!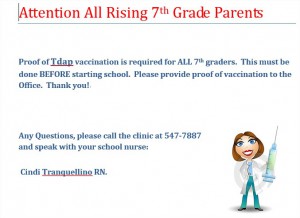 You must have an authorization form
completed for any meds
(prescription or non-prescription)
Keep your children at home for rest and treatment if they have:
Fever greater than 100 degrees

Chills

General tiredness or not feeling good

Frequent congested (wet) or croup-sounding cough

Lots of nasal congestion with frequent blowing of nose
 Stomach symptoms are not a part of cold or flu symptoms
but for good health sake follow these guidelines for staying home and preventing spread of disease:
Vomiting (even just once)

Diarrhea
A child should be physically able to participate in all school activities when returning to school.

Keeping a sick child at home will help reduce the spread of colds and flu in the classroom.
It is a very long day for a child who is sent to school sick.
 Your School Nurse is Cindi Tranquellino, RN
Please call 547-7887 with questions or concerns!