Thank you for visiting
Fruit Cove Middle School's Health Clinic page!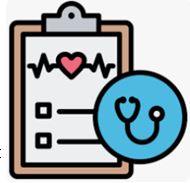 6th Grade Health Screenings
Tuesday, December 12, 2023
Our school nurse is looking for several volunteers to help with student health exams. It's a one day only event!!! You show up, she tells you what to do, eye exam, height, weight, nothing too hard, and then you get to leave.  
She has to do the ENTIRE 6th grade!! 
Below is the sign up genius. There are two time slots to choose from. If you have the time and can help, she would truly appreciate it! (You must be a school approved volunteer!) 
https://www.signupgenius.com/go/10C0D4CA9AA2AA3FCCF8-45809600-health
The Tdap immunization shot is required for all 7th graders and must be recorded on a Florida 680 form.  As soon as your student receives this shot, the form can be brought to the front office, faxed (904-547-7885) or emailed to Marjorie Connolly even if the student is still in 6th grade. 
You must have an authorization form completed for any meds (prescription or non-prescription)
Please be aware of this district policy:
NO ONE CAN PICK UP OR GIVE ANYTHING TO YOUR CHILD UNLESS THEY ARE ON THE DESIGNATED EMERGENCY CONTACT LIST.
Please review your list and make any additions/changes necessary. This is for the safety of your child. You may email this information to Marjorie Connolly with a copy of your (guardians) drivers license and we will update this information. Please provide the names and phone numbers of the contacts.
Keep your children at home for rest and treatment if they have:
Fever greater than 100.4 degrees

Chills

General tiredness or not feeling good

Frequent congested (wet) or croup-sounding cough

Lots of nasal congestion with frequent blowing of nose
Stomach symptoms are not a part of cold or flu symptoms
but for good health sake follow these guidelines for staying home and preventing spread of disease:
Vomiting (even just once)
A child should be physically able to participate in all school activities when returning to school.

Keeping a sick child at home will help reduce the spread of colds and flu in the classroom.

It is a very long day for a child who is sent to school sick.
 Your School Nurse is Cindi Tranquellino, RN
Please call (904) 547-7887 with questions or concerns!