Dates to Remember
Have a great summer!
Aug 1  6th Grade Transition Day  More Information
Aug 8   6th Grade Orientation  5:30pm to 7:30pm
Aug 9   7th Grade Orientation  8:00am to 10:00am
Aug 9   8th Grade Orientation  10:00am to 12:00pm

---
District Information
Alert Now – What is Alert Now?
SJCSD Media Releases
SJCSD ESE Department
Economic Security Report 7/2015 
Secondary Choice Letter 7/2015
Helping Your Child with FSAs & EOCs NEW
---
Free Use of High School Outdoor Facilities This Summer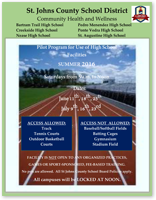 For six Saturdays in June and July, outdoor facilities at each of our high schools will be open for public use to promote community health and wellness. Some restrictions apply.
Please view the flyer for details.
---
Important Future Dates


---
Exceptional Student Education
Parent Advisory Committee Meeting
The ESE Parent Advisory Council meets to inform the school district about ways in which we can improve our efforts in serving students with disabilities. All parents are invited to participate. For more information contact the ESE office at 904-547-7712.
---
School Board Updates (Bev Slough)
Beverly Slough, District 1 representative to the St. Johns County School Board, writes periodic updates for parents and others concerning school district matters. If you would like to receive the updates, please email her at Beverly.Slough@stjohns.k12.fl.us so that she can add you to the distribution.
---
Community Information
BeaTPAC (Bartram Trail High School Performing Arts Summer Camp)
Registration Opens Tuesday, March 1, 2016. Space is limited.
More information
---

Important High School information
for 8th grade!
---
Important information for Rising 6th Graders

If your child has medication/supplies in the clinic,
please pick them up by Friday May 27th at 2:00pm.
Per St. Johns County policy all medications not picked up must be discarded.
If you have any questions please contact Ms. Tranquellino in the clinic at 547-7887.
---
Empowering Excellence in Educators
Learn about St. Johns County School District's new instructional evaluation system that will advance student growth and academic achievement.
---
If you are a person with a disability who needs assistance, please contact Marquez Jackson, 547-7880