Dates to Remember

Sep 28- Oct 12   PTO Fall Fundraiser  ID # 287338
Oct 1-12   Rock Your Socks
Oct 12   First Quarter Ends
Oct 15  Teacher Planning Day-Student Holiday  
Oct 17   SAC meeting 3pm
Oct 18   Make it ORANGE  2-3p
Oct 22-26   Spirit Week
Oct 29-31  6th Grade Health Screenings


Nov 12

 

Veterans Day –

Student/Teacher Holiday
Nov 21-23 Thanksgiving Break-Student/Teacher Holiday

---
District Information
SJCSD Media Releases
SJCSD ESE Department
SJCSD ELL Plan 2016-2019 
Provisional Transportation Waiver Program
The St Johns County School District Provisional Transportation Waiver Program (PTWP) extends transportation services to students assigned to district schools based on space availability and criteria.
If a waiver is needed for the 2018-2019 school year, parents are encouraged visit the Transportation webpage. http://www.stjohns.k12.fl.us/transportation/ptwaiver/
2018-2019 Instructional Materials Adoption- Mathematics
---
Important Future Dates
Dec 21   Second Quarter/First Semester Ends
Dec 24-Jan 3   Winter Break – Student/Teacher Holiday
Jan 4  Teacher Planning Day-Student Holiday
Jan 7  Classes Resume for Students
Jan 21  MLK Day – Student/Teacher Holiday 
Feb 15  Teacher Planning Day-Student Holiday
Feb 18   Presidents Day – Student/Teacher Holiday 
Mar 14   Third Quarter Ends 
Mar 15  Teacher Planning Day-Student Holiday 
Mar 18-22   Spring Break – Student/Teacher Holiday
Mar 25  Classes Resume for Students
Apr 19  Student/Teacher Holiday
May 24   Last Day for Students/Fourth Quarter Ends
May 27  Memorial Day – Teacher Holiday  
May 28  Last Day for Teachers

---
Exceptional Student Education
Parent Advisory Committee Meeting
The ESE Parent Advisory Council meets to inform the school district about ways in which we can improve our efforts in serving students with disabilities. All parents are invited to participate. For more information contact the ESE office at 904-547-7712.
Florida Postsecondary Education Guide
SJCSD Transition Reference Guide
CampAbility 2018
---
School Board Updates (Bev Slough)
Beverly Slough, District 1 representative to the St. Johns County School Board, writes periodic updates for parents and others concerning school district matters. If you would like to receive the updates, please email her at [email protected] so that she can add you to the distribution.
---
Community Information
To schedule Virtual School Testing, contact Mrs. Jaeger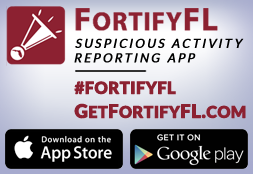 ---
2018-2019 FCMS Yearbook Information
---
Congratulations to our Teacher of the Year, Kristin Alford,
and our Rookie Teacher of the Year, Tyler Register!
---
Schoology Documents
---
Immunization Records

The Tdap immunization shot is required for all 7th graders and must be recorded on a Florida 680 form.  As soon as your student receives this shot, the form can be brought to the front office, faxed (904-547-7885) or emailed (to [email protected]) even if the student is still in 6th grade.  Immunization Flyer 2017-2018
---
If you are a person with a disability who needs assistance, please contact Jennifer Gamble, 547-7880