Dates to Remember
Jan 14-18
Pennies for Patients Week
Jan 21 
MLK Day – Student/Teacher Holiday

Jan 24  FCMS Geographic Bee
Feb 2  FCMS Icemen Experience
Feb 15  Teacher Planning Day-

Student Holiday
Feb 18  
Presidents Day – Student/Teacher Holiday

Feb 22  8th gr Dance "A Night in Hollywood"

Feb 28  "Mary Poppins

"
7:00pm
---
District Information
SJCSD Media Releases
SJCSD ESE Department
SJCSD ELL Plan 2016-2019 
Provisional Transportation Waiver Program
The St Johns County School District Provisional Transportation Waiver Program (PTWP) extends transportation services to students assigned to district schools based on space availability and criteria.
If a waiver is needed for the 2018-2019 school year, parents are encouraged visit the Transportation webpage. http://www.stjohns.k12.fl.us/transportation/ptwaiver/
2018-2019 Instructional Materials Adoption- Mathematics
---
Important Future Dates
Mar 1   "Mary Poppins"  7:00pm  
Mar 14   Third Quarter Ends 
Mar 15  Teacher Planning Day-Student Holiday 
Mar 18-22   Spring Break – Student/Teacher Holiday
Mar 25  Classes Resume for Students
Apr 19  Student/Teacher Holiday
May 24   Last Day for Students/Fourth Quarter Ends
May 27  Memorial Day – Teacher Holiday  
May 28  Last Day for Teachers

---
Exceptional Student Education
Parent Advisory Committee Meeting
The ESE Parent Advisory Council meets to inform the school district about ways in which we can improve our efforts in serving students with disabilities. All parents are invited to participate. For more information contact the ESE office at 904-547-7712.
---
School Board Updates (Bev Slough)
Beverly Slough, District 1 representative to the St. Johns County School Board, writes periodic updates for parents and others concerning school district matters. If you would like to receive the updates, please email her at [email protected] so that she can add you to the distribution.
---
Community Information
To schedule Virtual School Testing, contact Mrs. Jaeger
2019-20 Program of Choice Information
The 2019-20 Program of Choice application window for current 8th grade students living in St. Johns County is Jan. 24 at 8 am - Feb. 19 at 5 pm, 2019. Learn more about these programs at Career Academies of St. Johns. For students applying to the St. Johns County Center for the Arts at St. Augustine High, please view the Feb. 15th Audition Schedule.
CHARACTER COUNTS! 6 Pillars 6K/3K Run/Walk

Walkers, runners and fitness enthusiasts are invited to participate in the CHARACTER COUNTS! 6 Pillars 6K/3K Run/Walk on Saturday, February 2, 2019 at 9 a.m. The run/walk will begin and end at Palencia Elementary School. Register before January 1 and receive a $5 discount!
Register today!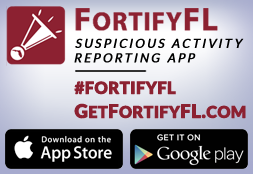 ---
2018-2019 FCMS Yearbook Information
---
Congratulations to the School-Related Employee of the Year, Kircy Marte!
---
We have been told by Chick-Fil–A that they are closing
their store for renovations starting February 2019.
Please be advised that our last day for
selling Chick-Fil-A will be Thursday January 31st.
We do not have a reopening date but will advise
everyone when it will be available for sale again.
---
Schoology Documents
---
Immunization Records

The Tdap immunization shot is required for all 7th graders and must be recorded on a Florida 680 form.  As soon as your student receives this shot, the form can be brought to the front office, faxed (904-547-7885) or emailed (to [email protected]) even if the student is still in 6th grade.  Immunization Flyer 2017-2018
---
If you are a person with a disability who needs assistance, please contact Jennifer Gamble, 547-7880